By Emma Ryan.
While the town of Willow Tree on the Liverpool Plains might be tiny with a population of just 169 people, it punches well above its weight when it comes to hospitality.
That's thanks to the newly restored Willow Tree Inn and its critically acclaimed Graze Restaurant and Bistro. But the Inn offers more than just mouth-watering, locally reared steak, with a range of stylish accommodation options available to suit couples and families alike.
Rest assured, this is not your bog-standard small-town roadside motel. Far from it, in fact. At Willow Tree Inn you can expect spacious rooms, fine linen, stained glass bay windows, mood lighting, ornamental pressed tin ceilings and other wonderful period details, all tastefully styled in bespoke antique furniture like something off the pages of a country interiors magazine.
This is seriously plush accommodation that will leave you wondering why it took you so long to visit Willow Tree.
But you wouldn't have asked the question seven years ago, when the old pub was crumbling at the corners and barely staying afloat. That was until it fell into the hands of Sydney businessman Charles Hanna and his wife Cheryl, who had recently bought Colly Creek cattle property a few kilometres up the road. The Hanna's saw potential in the historic old hotel and set about renovating it with the vision to make it lady- and family-friendly. And boy, did they achieve that goal.
The Inn has been treated to a new lease on life and you can almost feel the old building swell with pride at its glamorous chandeliers, opulent leather furniture and beautifully restored pressed metal ceilings. It's now a stylish and sophisticated venue in which to enjoy the Hanna's locally grown lamb and beef, which is aged on site.
People travel from far and wide to do so, the restaurant acclaimed by Sydney food critics who have been charmed by its seasonal menu, paddock-to-plate ethos and extensive wine list. And you needn't hold back on the latter, because Willow Tree Inn has plenty of space for merry diners to spend the night in style.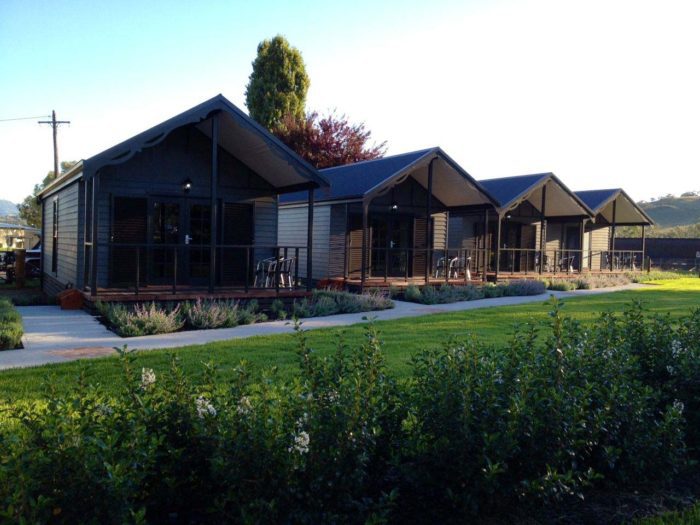 There are four 'King Lodges' overlooking the landscaped gardens at the Inn's rear, which are essentially the Vogue edition of a holiday cabin. They feature king-sized beds dressed in fine linen, antique furniture and spacious ensuite bathrooms clad in crisp white subway tiles. There's a veranda on each, the perfect place to retreat with a bottle of crisp white on ice to enjoy as the sun drops over Big Sky Country. There are also four 'Hotel Suites', slightly smaller with queen or double beds but nonetheless stylishly appointed.
The 'Pub Cottage' offers king, queen, and twin rooms, the former with an ensuite and the latter with shared bathroom facilities. The cottage has shared kitchen facilities and a library room.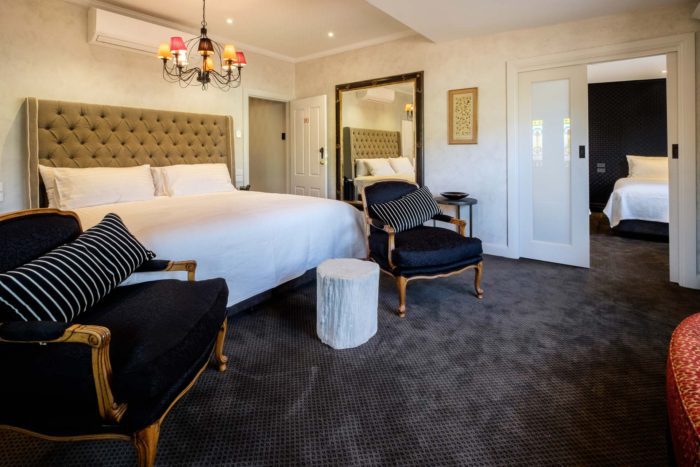 Across the road you'll find the premium accommodation option at the newly opened 'Cottage 24'. A renovated historic home that has been adapted to suit, the cottage offers a Queen Suite and three King Suites, one of which can serve as a family room with the inclusion of the adjacent twin room. All rooms in Cottage 24 are uniquely styled with no expense spared, and have their own private bathrooms.
Between the fabulous cuisine of Graze and the opulent accommodation of Willow Tree Inn you're guaranteed a weekend to remember at this unassuming little town, which, if the streams of people flowing into the Inn on the weekends is anything to go by, is now firmly 'on the map' for hungry locals and travellers alike.