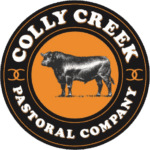 About Colly Creek Pastoral Company
All Angus steaks and beef selections on our menus at the Willow Tree Inn come from cattle born and raised on the pastures of Colly Creek Pastoral Company, also at Willow Tree, NSW.
Colly Creek was purchased by our company in mid-2005 and comprises a total of over 6,000 acres of prime breeding and fattening country, bounded by the New England and Kamilaroi Highways at Willow Tree. The Colly Creek aggregation includes approximately 2,000 acres, known as "Plain View" on the Merriwa Road, 3kms west of Willow Tree. This property benefits from four large grain silos and a 600-head feedlot, which allows us to finish our pasture fed cattle on local Barley and Triticale grown by our company on the Liverpool Plains, together with Oaten Hay.
Colly Creek, runs approximately 2,000 head of Black Angus cattle, from which we choose the 25 best steers each month exclusively for Graze Restaurant.
The Black Angus cattle born and raised on the beautiful pastures of Colly Creek have excellent marble score, tenderness, and flavour.